By Kevin Williams
VERMONT AMISH:  The Amish quietly "sneaked" into Vermont last year and planted roots.  The only surprise, from my standpoint, is that their arrival took so long.  Northern New York has a very robust and growing Amish population and nearby rural Vermont seemed like a logical next place.  Sounds like their presence is expanding and local officials are grappling with how to ensure everyone's safety on the narrow, dark, winding roads.  This sort of hand-wringing and adjustment period is quite common in areas where the Amish are new arrivals.  This is a pretty good article about them and gives good insight into Vermont's new Amish community.  They are, it seems, comprised of Swartzentruber Amish.  Read more here.
MAINE AMISH:  The Amish community at Whitefield, Maine has taken root over the past year, this makes it the southern most settlement in the state.  It's been interesting to watch the "Amish wave" wash over Maine.  The community's pop up and usually stay small.  One church district and then they'll subdivide and plant a church elsewhere in the state.  Counting Whitefield, according to my tally, there are now 5 Amish communities in Maine with the others being Patten, Fort Fairfield, Unity, and Smyrna.    There is a Plain church in Corinna.  Click here to read how those around Whitefield are adjusting to their new neighbors.
AN AMISH QUILT OF COMPASSION:   And while we are on the topic of Whitefield, Maine....This is an interesting story that highlights an incredible streak of compassion among the Amish.  A group of Amish in New York selflessly made this quilt as a memorial to a grieving mother in Maine.  The Amish are such a large, diverse group that they are tough to "pigeonhole", I've seen this type of tender, no-strings-attached compassion in groups of Amish, while others in other communities have a general aloofness.  But this is a good story, click here to read.
FARMERS MARKET IN WICHITA:   By the way, the town is pronounced "Which-ih-tah."  I heard a funny story from a friend about an airline employee who announced a flight over the intercom as being non-stop "from Dallas to Whicheeta."   Ha, but she didn't last long on the job.  I've passed through Wichita several times over the years and always regretted I didn't have more time to explore, it seems like a very vibrant urban oasis in the middle of Kansas.  Click here to read about a farmers market in town and the Plain presence there.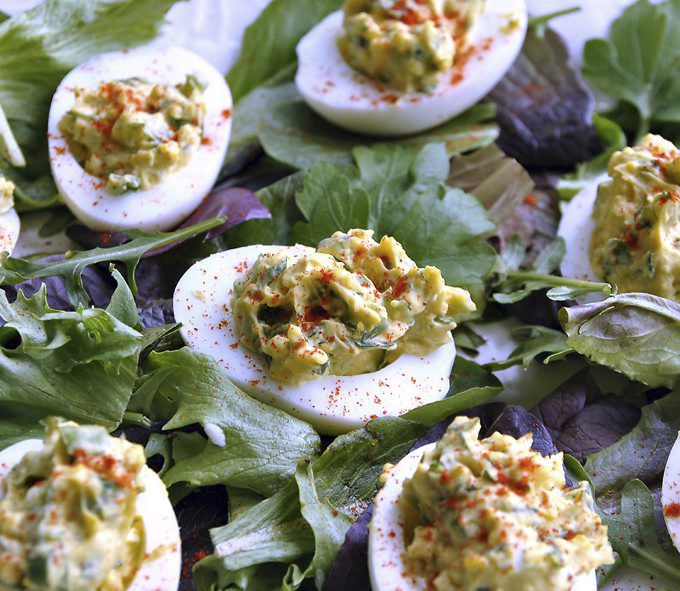 Caption:  Deviled Eggs photo by Gretchen MacKay, Pittsburgh Post-Gazette
DEVILED EGGS WITH A TWIST:  What to do with all the leftover hard-boiled eggs from Easter.  I just sprinkle them with salt and enjoy, but you can make deviled eggs, but not just any ol' deviled eggs. Take a look at THIS recipe!
AMISH SEWAGE STINK:  Amish in an ultraconservative southeast Minnesota community are fighting local sewage laws.  Click here for the latest.
SARA MILLER'S AMISH CORNER:  What a wonderful column this is in the tiny Geauga Maple Leaf.  This is an Amish woman that writes a bi-monthly feature for the local paper and she just does a superb job.  She's one of the best Amish writers in terms of delivering a authentic slice of Amish life to readers.