By Kevin Williams
I received an interesting question last night on this site and I admit I don't have a conclusive answer, so I thought I'd throw it out for discussion and thoughts on what I would do and have done:
Here was the question:
Thank-you for the informative article about attending an amish church service. I will have the opportunity to experience it in a few weeks. I was wondering what kind of head covering I need to purchase or sew for being an "englisher"? Any information and ideas will be appreciated.
This is a tough, tough question to answer.  My reflexive, initial reaction is that as an outsider you're not expected to "dress Amish" for the occasion and might even offend someone by doing so.  But not necessarily. Let me elaborate.
I've attended many religious services over the years, often as a journalist.  I was in a mosque in Kentucky a couple of years ago doing a story and I did remove my shoes before going inside.  That is a known etiquette that is practiced by anyone entering a mosque.  That seems different than dressing in the clothing.  There are variables to this readers question that I don't have:  are you being invited to attend or just dropping in?  I would think if you are just dropping in, then coming in Amish clothing would just seem odd.  If you are being invited by someone, ask your host what would be the appropriate dress.  I think there's also a variable as to whether you are attending simply as an observer or as someone who is genuinely interested in becoming a part of the faith. If it's the latter, I'd be more inclined to encourage you to dress Plainly.
Above is a typical Midwestern Amish woman head-covering, you can see all sorts of styles on Quaker Jane's website along with a fascinating look at which Amish denominations where which head-coverings, even if you don't plan to buy this is quite a fascinating primer on how to figure out who is who.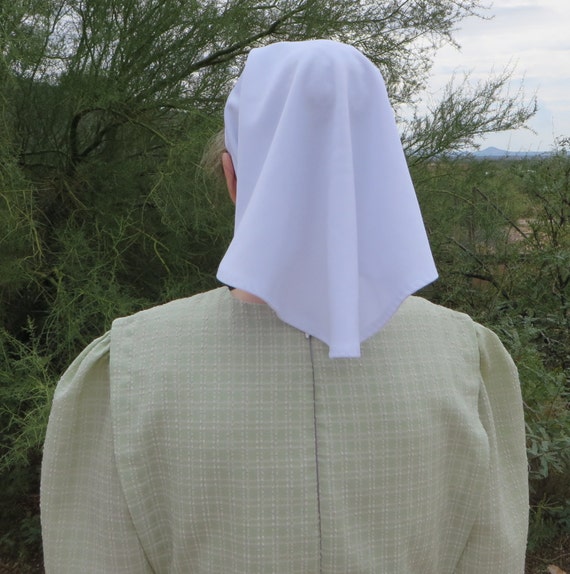 Caption:  A female outsider could wear a kerchief type covering, they are available at various places online.
I do think women attending a Plain service should try to wear a dress, and make it a conservative color: blue, black, green, tan....are you going to get thrown out if you wear a red dress?  No, but the whole Amish ethos revolves around consistency and not wanting to stand out, so the key is not to call attention to yourself.  My concern is that if you are a total stranger coming in in Amish dress you might end up calling more attention to yourself, not less.
For men, a dark suit, crisp white button down shirt, or a blue button-down shirt, those are all find.
Don't show up an Amish church service in shorts, flip flops, t-shirt, garish jewelry, etc, that's just disrespectful of their version of worship.   Now, I would say that women could a kerchief type head covering as a show of respectful, but you'd need to be able to wear it well.
These are just my thoughts.   I mean, I guess on one hand there's the "when in Rome" manta to do what everyone else is doing.  But I think you could do it without doing it clumsily, I think just dressing conservatively is probably enough. What do you think?